08-16-2017, 09:46 PM
John Deere Payloads & Calibartion Files
[1.705 GB]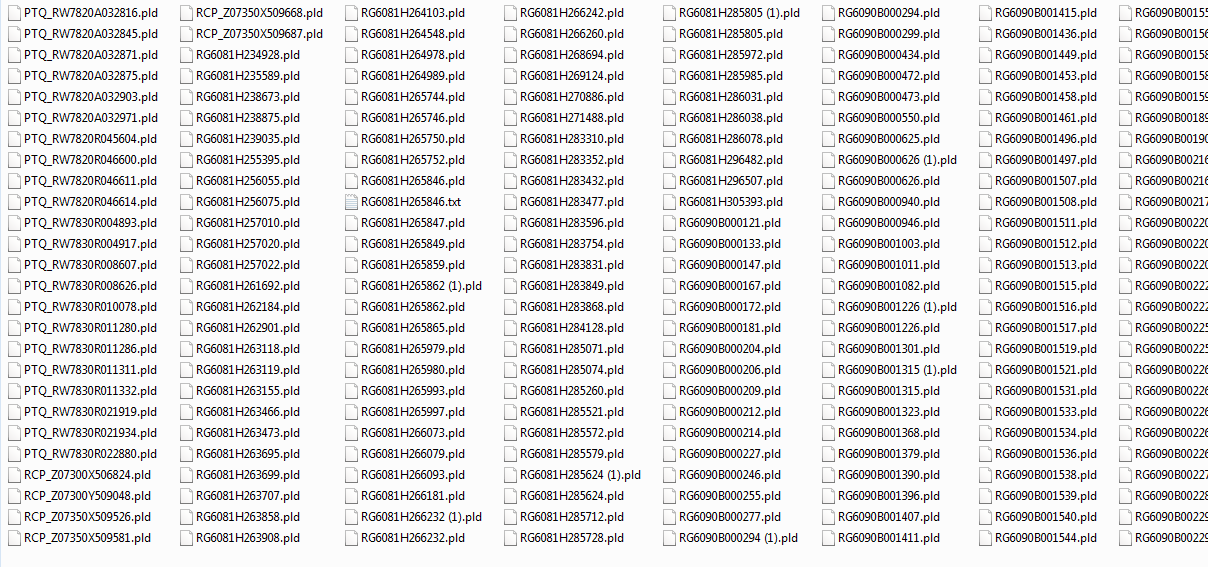 Catalogue type: Diagnostics
Region:All regions
Language: English
Size: 2786 Files - 1.705 GB
Operating system: WinXP,WinVista/Win 7, Windows Vista, 7 x 64 Bit
Disk amount: 1 CD
John Deere Service Advisor Payloads files for program John Deere controllers Flash Files + Calibartion Files.
John Deere Service Advisor PLD files (Flash Files for program controllers)
support nearly all John Deere machines and engine by providing controller software payloads.  
You are able to download replacement engine payloads, standard service payloads as well as calibrated component payloads. 
 In addition you will find field kit software and remote programming for select controllers and machines.Remember, 
you are required to return programming results to John Deere in a timely fashion.
Models: 
Name                                
-------------------------------------
AC2_ISO1910000000.pld                
ACU_1JZ8310RJBP052384.pld            
ACU_1JZ8310RJBP052434.pld            
ACU_1JZ8310RJBP052479.pld            
ACU_1JZ8310RJCP052595.pld            
ACU_1JZ8310RJCP052631.pld            
ACU_1JZ8310RJCP052659.pld            
ACU_1JZ8310RJDP053375.pld            
ACU_1JZ8310RKCP052627.pld            
ACU_1JZ8310RKCP052661.pld            
ACU_1JZ8310RKCP053079.pld            
ACU_1JZ8310RKCP053129.pld            
ACU_1JZ8310RLCP052649.pld            
ACU_1JZ8310RLCP052702.pld            
ACU_1JZ8310RLCP052800.pld            
ACU_1JZ8310RLCP052859.pld            
ACU_1JZ8310RLCP052862.pld            
ACU_1JZ8310RLCP053087.pld            
ACU_1JZ8310RLCP053123.pld            
ACU_1JZ8310RLDP053365.pld            
ACU_1JZ8310RLDP053379.pld            
ACU_1JZ8310RPBP052396.pld            
ACU_1JZ8310RPCP052660.pld            
ACU_1JZ8310RPCP052674.pld            
ACU_1JZ8310RPCP052870.pld            
ACU_1JZ8310RPCP053114.pld            
ACU_1JZ8310RTBP052378.pld            
ACU_1JZ8310RTBP052395.pld            
ACU_1JZ8310RTCP052642.pld            
ACU_1JZ8310RTCP052673.pld            
ACU_1JZ8310RTCP053130.pld            
ACU_1JZ8310RTDP053369.pld            
ACU_1JZ8310RVBP052386.pld            
ACU_1JZ8310RVBP052422.pld            
ACU_1JZ8310RVBP052436.pld            
ACU_1JZ8310RVBP052467.pld            
ACU_1JZ8310RVCP052602.pld            
ACU_JZ8295R001009.pld                
ACU_JZ8295R001010.pld                
ACU_JZ8295R001088.pld                
ACU_JZ8295R002058.pld                
ACU_JZ8295R002062.pld                
ACU_JZ8295R002086.pld                
ACU_JZ8295R002092.pld                
ACU_JZ8295R002103.pld                
ACU_JZ8295R002121.pld                
ACU_JZ8295R002125.pld                
ACU_JZ8295R002134.pld                
ACU_JZ8295R002154.pld                
ACU_JZ8295R002159.pld                
ACU_JZ8295R002175.pld                
ACU_JZ8295R002185.pld                
ACU_JZ8295R002340 (1).pld            
ACU_JZ8295R002340.pld                
ACU_RW8330P014905.pld                
ACU_RW8330P014912.pld                
ACU_RW8330P014921.pld                
ACU_RW8330P014959.pld                
ACU_RW8330P014965.pld                
ACU_RW8330P015049.pld                
ACU_RW8330P024261.pld                
ACU_RW8330P024505.pld                
ACU_RW8430P001973.pld                
ACU_RW8430P002071.pld                
ACU_RW8430P010662.pld                
ACU_RW8430P011029.pld                
ACU_RW8430P011078.pld                
ACU_RW8430P011372.pld                
ACU_RW8430P011570.pld                
ACU_RW8430P011579.pld                
ACU_RW8430P011582.pld                
ACU_RW8430P011595.pld                
ACU_RW8430P011602.pld                
ACU_RW8430P011610.pld                
ACU_RW8430P011628.pld                
ACU_RW8430P011648.pld                
ACU_RW8430P011665 (1).pld            
ACU_RW8430P011665.pld                
ACU_RW8430P011668.pld                
ACU_RW8430P011669 (1).pld            
ACU_RW8430P011669.pld                
ACU_RW8430P011677.pld                
ACU_RW8430P011693.pld                
ACU_RW8430P011824.pld                
ACU_RW8430P011846.pld                
ACU_RW8430P011853.pld                
ACU_RW8430P011867.pld                
ACU_RW8430P011873.pld                
ACU_RW8430P011964.pld                
ACU_RW8430P012038.pld                
ACU_RW8430P012050.pld                
ACU_RW8430P012057.pld                
ACU_RW8430P012066.pld                
ACU_RW8430P012142 (1).pld            
ACU_RW8430P012142.pld                
ACU_RW8430P012184.pld                
ACU_RW8430P012188.pld                
ACU_RW8430P012288.pld                
ACU_RW8430P012327.pld                
ACU_RW8430P012468.pld                
ACU_RW8430P012732.pld                
ACU_RW8430P012751.pld                
ACU_RW8430P012779.pld                
ACU_RW8430P012787.pld                
ACU_RW8430P012877.pld                
ACU_RW8430P014721.pld                
ACU_RW8430P014731.pld                
ACU_RW8430P014737.pld                
ACU_RW8430P014744.pld                
ACU_RW8430P014760.pld                
ACU_RW8430P014764.pld                
ACU_RW8430P014803.pld                
ACU_RW8430P014835.pld                
ACU_RW8430P014863.pld                
ACU_RW8430P014867.pld                
ACU_RW8430P014877.pld                
ACU_RW8430P015715.pld                
ACU_RW8430P015731.pld                
ACU_RW8430P015733.pld                
ACU_RW8430P015737.pld                
ACU_RW8430P015749.pld                
ACU_RW8430P015767.pld                
ACU_RW8430P015768.pld                
ACU_RW8430P015779.pld                
ACU_RW8430P015806.pld                
ACU_RW8430P015833.pld                
ACU_RW8430P015854.pld                
ACU_RW8430P016390.pld                
ACU_RW8430P016418.pld                
ACU_RW8430P016477.pld                
ACU_RW8430P016530 (1).pld            
ACU_RW8430P016530.pld                
ACU_RW8430P016620.pld                
ACU_RW8430P017879.pld                
ACU_RW8430P018065.pld                
ACU_RW8430P018107.pld                
ACU_RW8430P018113.pld                
ACU_RW8430P018150.pld                
ACU_RW8430P020002.pld                
ACU_RW8430P020008.pld                
ACU_RW8430P020067.pld                
ACU_RW8430P020201.pld                
ACU_RW8430P020207.pld                
ACU_RW8430P020209.pld                
ACU_RW8430P020218 (1).pld            
ACU_RW8430P020218 (2).pld            
ACU_RW8430P020218.pld                
ACU_RW8430P020234.pld                
ACU_RW8430P020495 (1).pld            
ACU_RW8430P020495.pld                
ACU_RW8430P020751.pld                
ACU_RW8430P020787.pld                
ACU_RW8430P020793.pld                
ACU_RW8430P020804.pld                
ACU_RW8430P020810.pld                
ACU_RW8430P020828 (1).pld            
ACU_RW8430P020828.pld                
ACU_RW8430P020836.pld                
ACU_RW8430P020842.pld                
ACU_RW8430P020874.pld                
ACU_RW8430P020896.pld                
ACU_RW8430P020959.pld                
ACU_RW8430P020972.pld                
ACU_RW8430P020977.pld                
ACU_RW8430P020995.pld                
ACU_RW8430P021001.pld                
ACU_RW8430P021022.pld                
ACU_RW8430P021031.pld                
ACU_RW8430P021470.pld                
ACU_RW8430P021505.pld                
ACU_RW8430P021511.pld                
ACU_RW8430P021512.pld                
ACU_RW8430P021514.pld                
ACU_RW8430P021516.pld                
ACU_RW8430P021517.pld                
ACU_RW8430P021519.pld                
ACU_RW8430P021524.pld                
ACU_RW8430P021532.pld                
ACU_RW8430P021537.pld                
ACU_RW8430P021539.pld                
ACU_RW8430P021544.pld                
ACU_RW8430P021562.pld                
ACU_RW8430P021576.pld                
ACU_RW8430P021588.pld                
ACU_RW8430P021625.pld                
ACU_RW8430P021632.pld                
ACU_RW8430P021637.pld                
ACU_RW8430P021641.pld                
ACU_RW8430P021659.pld                
ACU_RW8430P021698 (1).pld            
ACU_RW8430P021698.pld                
ACU_RW8430P021731.pld                
ACU_RW8430P021742.pld                
ACU_RW8430P022681.pld                
ACU_RW8430P022873.pld                
ACU_RW8430P023899.pld                
ACU_RW8430P023924.pld                
ACU_RW8430P023953.pld                
ACU_RW8430P024001.pld                
ACU_RW8430P024019.pld                
ACU_RW8430P024034.pld                
ACU_RW8430P024052 (1).pld            
ACU_RW8430P024052.pld                
ACU_RW8430P024077.pld                
ACU_RW8430P024118.pld                
ACU_RW8430P024126.pld                
ACU_RW8430P024204.pld                
ACU_RW8430P024228.pld                
ACU_RW8430P024230.pld                
ACU_RW8430P024258.pld                
ACU_RW8430P024260.pld                
ACU_RW8430P024298.pld                
ACU_RW8430P024301.pld                
ACU_RW8430P024306 (1).pld            
ACU_RW8430P024306.pld                
ACU_RW8430P024337.pld                
ACU_RW8430P024365.pld                
ACU_RW8430P024368.pld                
ACU_RW8430P024389.pld                
ACU_RW8430P024391.pld                
ACU_RW8430P024392.pld                
ACU_RW8430P024432.pld                
ACU_RW8430P024475.pld                
ACU_RW8430P024476.pld                
ACU_RW8430P024482.pld                
ACU_RW8430P024486.pld                
ACU_RW8430P024492.pld                
ACU_RW8430P024496.pld                
ACU_RW8430P024509.pld                
ACU_RW8430P024522.pld                
ACU_RW8430P024525.pld                
ACU_RW8430P024541.pld                
ACU_RW8430P024580.pld                
ACU_RW8430P024593.pld                
ACU_RW8430P025365.pld                
ACU_RW8430P026054 (1).pld            
ACU_RW8430P026054.pld                
ACU_RW8430P029250.pld                
ACU_RW8430P029286.pld                
ACU_RW8430P029300.pld                
ACU_RW8430P029330.pld                
ACU_RW8430P029335.pld                
ACU_RW8430P029348.pld                
ACU_RW8430P029367.pld                
ACU_RW8430P029416.pld                
ACU_RW8430P029432.pld                
ACU_RW8430P029441.pld                
ACU_RW8430P029488.pld                
ACU_RW8430P029516.pld                
ACU_RW8430P029570.pld                
ACU_RW8430P029579.pld                
ACU_RW8430P029608.pld                
ACU_RW8430P029612.pld                
ACU_RW8430P029620.pld                
ACU_RW8430P029630.pld                
ACU_RW8430P029635.pld                
ACU_RW8430P029686.pld                
ACU_RW8430P029828.pld                
ACU_RW8430P029844 (1).pld            
ACU_RW8430P029844.pld                
ACU_RW8430P029905.pld                
ACU_RW8430P029916.pld                
ACU_RW9330P002173.pld                
ACU_RW9330P002185.pld                
ACU_RW9430P002168.pld                
ACU_RW9430P002380.pld                
ACU_RW9430P002431.pld                
ACU_RW9430P002442.pld                
ACU_RW9430P003370.pld                
ACU_RW9430P003441.pld                
ACU_RW9430P003476.pld                
ACU_RW9430P003485.pld                
ACU_RW9430P003553.pld                
ACU_RW9430P003569.pld                
ACU_RW9430P003603.pld                
ACU_RW9430P003735.pld                
ACU_RW9430P004295.pld                
ARC_Z07300X506824.pld                
ARC_Z07300Y509048.pld                
ARC_Z07350X509526.pld                
ARC_Z07350X509581.pld                
ARC_Z07350X509668.pld                
ARC_Z07350X509687.pld                
ARC_Z07350X509760.pld                
ASU_RW7820A032871.pld                
ATC_RW7820A032871.pld                
BUNDLE_DW672GX635247.pld            
BUNDLE_DW672GX635394.pld            
BUNDLE_DW672GX638532.pld            
BUNDLE_DW672GX644896.pld            
BUNDLE_DW772GX635503.pld            
BUNDLE_DW772GX638524.pld            
BUNDLE_DW772GX648064.pld            
CAB_1E0A400XJBB370139.pld            
CAB_1E0A400XTBB370055.pld            
CAB_1JZ8285RABP052264.pld            
CAB_1JZ8285REBP052270.pld            
CAB_1JZ8285RECP052531.pld            
CAB_1JZ8285RKBP052243.pld            
CAB_1JZ8285RLBP052265 (1).pld        
CAB_1JZ8285RLBP052265.pld            
CAB_1JZ8285RLCP052560.pld            
CAB_1JZ8310RACP052519.pld            
CAB_1JZ8310RADP053364.pld            
CAB_1JZ8310RCBP052368.pld            
CAB_1JZ8310RCBP052380.pld            
CAB_1JZ8310RCCP053120.pld            
CAB_1JZ8310RCDP053362.pld            
CAB_1JZ8310RCDP053368.pld            
CAB_1JZ8310RCDP053371.pld            
CAB_1JZ8310RCDP053376.pld            
CAB_1JZ8310REBP052393.pld            
CAB_1JZ8310REDP053370.pld            
CAB_1JZ8310RHBP052425.pld            
CAB_1JZ8310RHCP052605.pld            
CAB_1JZ8310RHCP052667.pld            
CAB_1JZ8310RHCP052717.pld            
CAB_1JZ8310RHCP053088.pld            
CAB_1JZ8310RHCP053110.pld            
CAB_1JZ8310RHDP053366.pld            
CAB_1JZ8310RJBP052384.pld            
CAB_1JZ8310RJBP052434.pld            
CAB_1JZ8310RJBP052479.pld            
CAB_1JZ8310RJCP052595.pld            
CAB_1JZ8310RJCP052631.pld            
CAB_1JZ8310RJCP052659.pld            
CAB_1JZ8310RJDP053375.pld            
CAB_1JZ8310RKCP052627.pld            
CAB_1JZ8310RKCP052661.pld            
CAB_1JZ8310RKCP053079.pld            
CAB_1JZ8310RKCP053129.pld            
CAB_1JZ8310RLCP052649.pld            
CAB_1JZ8310RLCP052702.pld            
CAB_1JZ8310RLCP052800.pld            
CAB_1JZ8310RLCP052859.pld            
CAB_1JZ8310RLCP052862.pld            
CAB_1JZ8310RLCP053087.pld            
CAB_1JZ8310RLCP053123.pld            
CAB_1JZ8310RLDP053365.pld            
CAB_1JZ8310RLDP053379.pld            
CAB_1JZ8310RPBP052396.pld            
CAB_1JZ8310RPCP052660.pld            
CAB_1JZ8310RPCP052674.pld            
CAB_1JZ8310RPCP052870.pld            
CAB_1JZ8310RPCP053114.pld            
CAB_1JZ8310RTBP052378.pld            
CAB_1JZ8310RTBP052395.pld            
CAB_1JZ8310RTCP052642.pld            
CAB_1JZ8310RTCP052673.pld            
CAB_1JZ8310RTCP053130.pld            
CAB_1JZ8310RTDP053369.pld            
CAB_1JZ8310RVBP052386.pld            
CAB_1JZ8310RVBP052422.pld            
CAB_1JZ8310RVBP052436.pld            
CAB_1JZ8310RVBP052467.pld            
CAB_1JZ8310RVCP052602.pld            
CAB_1JZ8335RLDP053404.pld            
CAB_1JZ8335RPCP052596.pld            
CAB_1JZ8335RPCP052937 (1).pld        
CAB_1JZ8335RPCP052937.pld            
CAB_1JZ8335RPDP053412.pld            
CAB_1JZ8335RTCP053133.pld            
CAB_1JZ8335RVBP052439.pld            
CAB_1JZ8335RVCP052541.pld            
CAB_1JZ8335RVDP053173.pld            
CAB_1JZ8335RVDP053254.pld            
CAB_E0A400X380062.pld                
CAB_JZ7830A001124.pld                
CAB_JZ7830A001219.pld                
CAB_JZ7830A001284.pld                
CAB_JZ7830A001385.pld                
CAB_JZ7830A001386.pld                
CAB_JZ7830A001391.pld                
CAB_JZ7830A001431.pld                
CAB_JZ7830A001447.pld                
CAB_JZ7930A001142.pld                
CAB_JZ7930A001401.pld                
CAB_JZ8295R001009.pld                
CAB_JZ8295R001010.pld                
CAB_JZ8295R001088.pld                
CAB_JZ8295R002058.pld                
CAB_JZ8295R002062.pld                
CAB_JZ8295R002086.pld                
CAB_JZ8295R002092.pld                
CAB_JZ8295R002103.pld                
CAB_JZ8295R002121.pld                
CAB_JZ8295R002125.pld                
CAB_JZ8295R002134.pld                
CAB_JZ8295R002154.pld                
CAB_JZ8295R002159.pld                
CAB_JZ8295R002175.pld                
CAB_JZ8295R002185.pld                
CAB_JZ8295R002340 (1).pld            
CAB_JZ8295R002340.pld                
CAB_RW7730R002612.pld                
CAB_RW7730R010212.pld                
CAB_RW7830R004893.pld                
CAB_RW7830R004917.pld                
CAB_RW7830R008607.pld                
CAB_RW7830R008626.pld                
CAB_RW7830R010078.pld                
CAB_RW7830R011280.pld                
CAB_RW7830R011286.pld                
CAB_RW7830R011311.pld                
CAB_RW7830R011332.pld                
CAB_RW7830R021919.pld                
CAB_RW7830R021934.pld                
CAB_RW7830R022880.pld                
CAB_RW8330P014905.pld                
CAB_RW8330P014912.pld                
CAB_RW8330P014921.pld                
CAB_RW8330P014959.pld                
CAB_RW8330P014965.pld                
CAB_RW8330P015049.pld                
CAB_RW8330P024261.pld                
CAB_RW8330P024505.pld                
CAB_RW8430P001973.pld                
CAB_RW8430P002071.pld                
CAB_RW8430P010662.pld                
CAB_RW8430P011029.pld                
CAB_RW8430P011078.pld                
CAB_RW8430P011372.pld                
CAB_RW8430P011570.pld                
CAB_RW8430P011579.pld                
CAB_RW8430P011582.pld                
CAB_RW8430P011595.pld                
CAB_RW8430P011602.pld                
CAB_RW8430P011610.pld                
CAB_RW8430P011628.pld                
CAB_RW8430P011648.pld                
CAB_RW8430P011665.pld                
CAB_RW8430P011668.pld                
CAB_RW8430P011669 (1).pld            
CAB_RW8430P011669.pld                
CAB_RW8430P011677.pld                
CAB_RW8430P011693.pld                
CAB_RW8430P011824.pld                
CAB_RW8430P011846.pld                
CAB_RW8430P011853.pld                
CAB_RW8430P011867.pld                
CAB_RW8430P011873.pld                
CAB_RW8430P011964.pld                
CAB_RW8430P012038.pld                
CAB_RW8430P012050.pld                
CAB_RW8430P012057.pld                
CAB_RW8430P012066.pld                
CAB_RW8430P012142.pld                
CAB_RW8430P012184.pld                
CAB_RW8430P012188.pld                
CAB_RW8430P012288.pld                
CAB_RW8430P012327.pld                
CAB_RW8430P012468.pld                
CAB_RW8430P012732.pld                
CAB_RW8430P012751.pld                
CAB_RW8430P012779.pld                
CAB_RW8430P012787.pld                
CAB_RW8430P012877.pld                
CAB_RW8430P014721.pld                
CAB_RW8430P014731.pld                
CAB_RW8430P014737.pld                
CAB_RW8430P014744.pld                
CAB_RW8430P014760.pld                
CAB_RW8430P014764.pld                
CAB_RW8430P014803.pld                
CAB_RW8430P014835.pld                
CAB_RW8430P014863.pld                
CAB_RW8430P014867.pld                
CAB_RW8430P014877.pld                
CAB_RW8430P015715.pld                
CAB_RW8430P015731.pld                
CAB_RW8430P015733.pld                
CAB_RW8430P015737.pld                
CAB_RW8430P015749.pld                
CAB_RW8430P015767.pld                
CAB_RW8430P015768.pld                
CAB_RW8430P015779.pld                
CAB_RW8430P015806.pld                
CAB_RW8430P015833.pld                
CAB_RW8430P015854.pld                
CAB_RW8430P016390.pld                
CAB_RW8430P016418.pld                
CAB_RW8430P016477.pld                
CAB_RW8430P016530.pld                
CAB_RW8430P016620.pld                
CAB_RW8430P017879.pld                
CAB_RW8430P018065.pld                
CAB_RW8430P018107.pld                
CAB_RW8430P018113.pld                
CAB_RW8430P018150.pld                
CAB_RW8430P020002.pld                
CAB_RW8430P020008.pld                
CAB_RW8430P020067.pld                
CAB_RW8430P020201.pld                
CAB_RW8430P020207.pld                
CAB_RW8430P020209.pld                
CAB_RW8430P020218 (1).pld            
CAB_RW8430P020218 (2).pld            
CAB_RW8430P020218.pld                
CAB_RW8430P020234.pld                
CAB_RW8430P020495.pld                
CAB_RW8430P020751.pld                
CAB_RW8430P020787.pld                
CAB_RW8430P020793.pld                
CAB_RW8430P020804.pld                
CAB_RW8430P020810.pld                
CAB_RW8430P020828 (1).pld            
CAB_RW8430P020828.pld                
CAB_RW8430P020836.pld                
CAB_RW8430P020842.pld                
CAB_RW8430P020874.pld                
CAB_RW8430P020896.pld                
CAB_RW8430P020959.pld                
CAB_RW8430P020972.pld                
CAB_RW8430P020977.pld                
CAB_RW8430P020995.pld                
CAB_RW8430P021001.pld                
CAB_RW8430P021022.pld                
CAB_RW8430P021031.pld                
CAB_RW8430P021470.pld                
CAB_RW8430P021505.pld                
CAB_RW8430P021511.pld                
CAB_RW8430P021512.pld                
CAB_RW8430P021514.pld                
CAB_RW8430P021516.pld                
CAB_RW8430P021517.pld                
CAB_RW8430P021519.pld                
CAB_RW8430P021524.pld                
CAB_RW8430P021532.pld                
CAB_RW8430P021537.pld                
CAB_RW8430P021539.pld                
CAB_RW8430P021544.pld                
CAB_RW8430P021562.pld                
CAB_RW8430P021576.pld                
CAB_RW8430P021588.pld                
CAB_RW8430P021625.pld                
CAB_RW8430P021632.pld                
CAB_RW8430P021637.pld                
CAB_RW8430P021641.pld                
CAB_RW8430P021659.pld                
CAB_RW8430P021698.pld                
CAB_RW8430P021731.pld                
CAB_RW8430P021742.pld                
CAB_RW8430P022681.pld                
CAB_RW8430P022873.pld                
CAB_RW8430P023899.pld                
CAB_RW8430P023924.pld                
CAB_RW8430P023953.pld                
CAB_RW8430P024001.pld                
CAB_RW8430P024019.pld                
CAB_RW8430P024034.pld                
CAB_RW8430P024052 (1).pld            
CAB_RW8430P024052.pld                
CAB_RW8430P024077.pld                
CAB_RW8430P024118.pld                
CAB_RW8430P024126.pld                
CAB_RW8430P024204.pld                
CAB_RW8430P024228.pld                
CAB_RW8430P024230.pld                
CAB_RW8430P024258.pld                
CAB_RW8430P024260.pld                
CAB_RW8430P024298.pld                
CAB_RW8430P024301.pld                
CAB_RW8430P024306 (1).pld            
CAB_RW8430P024306.pld                
CAB_RW8430P024337.pld                
CAB_RW8430P024365.pld                
CAB_RW8430P024368.pld                
CAB_RW8430P024389.pld                
CAB_RW8430P024391.pld                
CAB_RW8430P024392.pld                
CAB_RW8430P024432.pld                
CAB_RW8430P024475.pld                
CAB_RW8430P024476.pld                
CAB_RW8430P024482.pld                
CAB_RW8430P024486.pld                
CAB_RW8430P024492.pld                
CAB_RW8430P024496.pld                
CAB_RW8430P024509.pld                
CAB_RW8430P024522.pld                
CAB_RW8430P024525.pld                
CAB_RW8430P024541.pld                
CAB_RW8430P024580.pld                
CAB_RW8430P024593.pld                
CAB_RW8430P025365.pld                
CAB_RW8430P026054 (1).pld            
CAB_RW8430P026054.pld                
CAB_RW8430P029250.pld                
CAB_RW8430P029286.pld                
CAB_RW8430P029300.pld                
CAB_RW8430P029330.pld                
CAB_RW8430P029335.pld                
CAB_RW8430P029348.pld                
CAB_RW8430P029367.pld                
CAB_RW8430P029416.pld                
CAB_RW8430P029432.pld                
CAB_RW8430P029441.pld                
CAB_RW8430P029488.pld                
CAB_RW8430P029516.pld                
CAB_RW8430P029570.pld                
CAB_RW8430P029579.pld                
CAB_RW8430P029608.pld                
CAB_RW8430P029612.pld                
CAB_RW8430P029620.pld                
CAB_RW8430P029630.pld                
CAB_RW8430P029635.pld                
CAB_RW8430P029686.pld                
CAB_RW8430P029828.pld                
CAB_RW8430P029844 (1).pld            
CAB_RW8430P029844.pld                
CAB_RW8430P029905.pld                
CAB_RW8430P029916.pld                
CAB_RW9330P002173.pld                
CAB_RW9330P002185.pld                
CAB_RW9430P002168.pld                
CAB_RW9430P002380.pld                
CAB_RW9430P002431.pld                
CAB_RW9430P002442.pld                
CAB_RW9430P003370.pld                
CAB_RW9430P003441.pld                
CAB_RW9430P003476.pld                
CAB_RW9430P003485.pld                
CAB_RW9430P003553.pld                
CAB_RW9430P003569.pld                
CAB_RW9430P003603.pld                
CAB_RW9430P003735.pld                
CAB_RW9430P004295.pld                
CCU_JZ6130D001018.pld                
CCU_JZ6130D001055.pld                
CCU_JZ6130D001109.pld                
CCU_JZ6130D001111.pld                
CCU_JZ6130D001115.pld                
CCU_JZ6130D001182.pld                
CCU_JZ6130D001300.pld                
CCU_JZ6130D001330.pld                
CCU_JZ6130D001332.pld                
CCU_JZ6130D001338.pld                
CCU_JZ6130D001339.pld                
CCU_JZ6130D001340.pld                
CCU_JZ6130D001350.pld                
CCU_JZ6130D001359.pld                
CCU_JZ6130D001360.pld                
CCU_JZ6130D001361.pld                
CCU_JZ6130D001442.pld                
CCU_JZ6130D001443.pld                
CCU_RW9330P002173.pld                
CCU_RW9330P002185.pld                
CCU_RW9430P002168.pld                
CCU_RW9430P002380.pld                
CCU_RW9430P002431.pld                
CCU_RW9430P002442.pld                
CCU_RW9430P003370.pld                
CCU_RW9430P003441.pld                
CCU_RW9430P003476.pld                
CCU_RW9430P003485.pld                
CCU_RW9430P003553.pld                
CCU_RW9430P003569.pld                
CCU_RW9430P003603.pld                
CCU_RW9430P003735.pld                
CCU_RW9430P004295.pld                
CD4045H913354 (1).pld                
CD4045H913354.pld                    
CD6068G146248.pld                    
CD6068H859225.pld                    
CLC_1JZ8285RABP052264.pld            
CLC_1JZ8285REBP052270.pld            
CLC_1JZ8285RECP052531.pld            
CLC_1JZ8285RKBP052243.pld            
CLC_1JZ8285RLBP052265 (1).pld        
CLC_1JZ8285RLBP052265.pld            
CLC_1JZ8285RLCP052560.pld            
CLC_1JZ8310RACP052519.pld            
CLC_1JZ8310RADP053364.pld            
CLC_1JZ8310RCBP052368.pld            
CLC_1JZ8310RCBP052380.pld            
CLC_1JZ8310RCBP052427.pld            
CLC_1JZ8310RCCP052615.pld            
CLC_1JZ8310RCCP052629.pld            
CLC_1JZ8310RCCP052672.pld            
CLC_1JZ8310RCCP053098.pld            
CLC_1JZ8310RCCP053103.pld            
CLC_1JZ8310RCCP053120.pld            
CLC_1JZ8310RCDP053362.pld            
CLC_1JZ8310RCDP053368.pld            
CLC_1JZ8310RCDP053371.pld            
CLC_1JZ8310RCDP053376.pld            
CLC_1JZ8310REBP052393.pld            
CLC_1JZ8310REDP053370.pld            
CLC_1JZ8310RHBP052425.pld            
CLC_1JZ8310RHCP052605.pld            
CLC_1JZ8310RHCP052667.pld            
CLC_1JZ8310RHCP052717.pld            
CLC_1JZ8310RHCP053088.pld            
CLC_1JZ8310RHCP053110.pld            
CLC_1JZ8310RHDP053366.pld            
CLC_1JZ8310RJBP052384.pld            
CLC_1JZ8310RJBP052434.pld            
CLC_1JZ8310RJBP052479.pld            
CLC_1JZ8310RJCP052595.pld            
CLC_1JZ8310RJCP052631.pld            
CLC_1JZ8310RJCP052659.pld            
CLC_1JZ8310RJDP053375.pld            
CLC_1JZ8310RKCP052627.pld            
CLC_1JZ8310RKCP052661.pld            
CLC_1JZ8310RKCP053079.pld            
CLC_1JZ8310RKCP053129.pld            
CLC_1JZ8310RLCP052649.pld            
CLC_1JZ8310RLCP052702.pld            
CLC_1JZ8310RLCP052800.pld            
CLC_1JZ8310RLCP052859.pld            
CLC_1JZ8310RLCP052862.pld            
CLC_1JZ8310RLCP053087.pld            
CLC_1JZ8310RLCP053123.pld            
CLC_1JZ8310RLDP053365.pld            
CLC_1JZ8310RLDP053379.pld            
CLC_1JZ8310RPBP052396.pld            
CLC_1JZ8310RPCP052660.pld            
CLC_1JZ8310RPCP052674.pld            
CLC_1JZ8310RPCP052870.pld            
CLC_1JZ8310RPCP053114.pld            
CLC_1JZ8310RTBP052378.pld            
CLC_1JZ8310RTBP052395.pld            
CLC_1JZ8310RTCP052642.pld            
CLC_1JZ8310RTCP052673.pld            
CLC_1JZ8310RTCP053130.pld            
CLC_1JZ8310RTDP053369.pld            
CLC_1JZ8310RVBP052386.pld            
CLC_1JZ8310RVBP052422.pld            
CLC_1JZ8310RVBP052436.pld            
CLC_1JZ8310RVBP052467.pld            
CLC_1JZ8335RLDP053404.pld            
CLC_1JZ8335RPCP052596.pld            
CLC_1JZ8335RPCP052937 (1).pld        
CLC_1JZ8335RPCP052937.pld            
CLC_1JZ8335RPDP053412.pld            
CLC_1JZ8335RTCP053133.pld            
CLC_1JZ8335RVBP052439.pld            
CLC_1JZ8335RVCP052541.pld            
CLC_1JZ8335RVDP053173.pld            
CLC_1JZ8335RVDP053254.pld            
CLC_JZ8295R001009.pld                
CLC_JZ8295R001010.pld                
CLC_JZ8295R001088.pld                
CLC_JZ8295R002058.pld                
CLC_JZ8295R002062.pld                
CLC_JZ8295R002086.pld                
CLC_JZ8295R002092.pld                
CLC_JZ8295R002103.pld                
CLC_JZ8295R002121.pld                
CLC_JZ8295R002125.pld                
CLC_JZ8295R002134.pld                
CLC_JZ8295R002154.pld                
CLC_JZ8295R002159.pld                
CLC_JZ8295R002175.pld                
CLC_JZ8295R002185.pld                
CLC_JZ8295R002340 (1).pld            
CLC_JZ8295R002340.pld                
CLC_RW7730R002612.pld                
CLC_RW7730R010212.pld                
CLC_RW7830R004893.pld                
CLC_RW7830R004917.pld                
CLC_RW7830R008607.pld                
CLC_RW7830R008626.pld                
CLC_RW7830R010078.pld                
CLC_RW7830R011280.pld                
CLC_RW7830R011286.pld                
CLC_RW7830R011311.pld                
CLC_RW7830R011332.pld                
CLC_RW8430P020201.pld                
CLC_RW8430P020207.pld                
CLC_RW8430P020209.pld                
CLC_RW8430P020218.pld                
CLC_RW8430P020234.pld                
CLC_RW8430P020495.pld                
CLC_RW8430P020751.pld                
CLC_RW8430P020787.pld                
CLC_RW8430P020793.pld                
CLC_RW8430P020804.pld                
CLC_RW8430P020828 (1).pld            
CLC_RW8430P020828.pld                
CLC_RW8430P020836.pld                
CLC_RW8430P020842.pld                
CLC_RW8430P020874.pld                
CLC_RW8430P020896.pld                
CLC_RW8430P020959.pld                
CLC_RW8430P020972.pld                
CLC_RW8430P020977.pld                
CLC_RW8430P020995.pld                
CLC_RW8430P021001.pld                
CLC_RW8430P021022.pld                
CLC_RW8430P021031.pld                
CLC_RW8430P021470.pld                
CLC_RW8430P021505.pld                
CLC_RW8430P021511.pld                
CLC_RW8430P021512.pld                
CLC_RW8430P021516.pld                
CLC_RW8430P021517.pld                
CLC_RW8430P021519.pld                
CLC_RW8430P021524.pld                
CLC_RW8430P021532.pld                
CLC_RW8430P021537.pld                
CLC_RW8430P021539.pld                
CLC_RW8430P021544.pld                
CLC_RW8430P021562.pld                
CLC_RW8430P021576.pld                
CLC_RW8430P021588.pld                
CLC_RW8430P021625.pld                
CLC_RW8430P021632.pld                
CLC_RW8430P021637.pld                
CLC_RW8430P021641.pld                
CLC_RW8430P021659.pld                
CLC_RW8430P021698.pld                
CLC_RW8430P021731.pld                
CLC_RW8430P021742.pld                
CLC_RW8430P022681.pld                
CLC_RW8430P022873.pld                
CLC_RW8430P023899.pld                
CLC_RW8430P023924.pld                
CLC_RW8430P023953.pld                
CLC_RW8430P024001.pld                
CLC_RW8430P024019.pld                
CLC_RW8430P024034.pld                
CLC_RW8430P024052 (1).pld            
CLC_RW8430P024052.pld                
CLC_RW8430P024077.pld                
CLC_RW8430P024118.pld                
CLC_RW8430P024126.pld                
CLC_RW8430P024204.pld                
CLC_RW8430P024228.pld                
CLC_RW8430P024230.pld                
CLC_RW8430P024258.pld                
CLC_RW8430P024260.pld                
CLC_RW8430P024298.pld                
CLC_RW8430P024301.pld                
CLC_RW8430P024306 (1).pld            
CLC_RW8430P024306.pld                
CLC_RW8430P024365.pld                
CSM_1JZ8285RABP052264.pld            
CSM_1JZ8285REBP052270.pld            
CSM_1JZ8285RECP052531.pld            
CSM_1JZ8285RKBP052243.pld            
CSM_1JZ8285RLBP052265 (1).pld        
CSM_1JZ8285RLBP052265.pld            
CSM_1JZ8285RLCP052560.pld            
CSM_1JZ8310RACP052519.pld            
CSM_1JZ8310RADP053364.pld            
CSM_1JZ8310RCBP052368.pld            
CSM_1JZ8310RCBP052380.pld            
CSM_1JZ8310RCBP052427.pld            
CSM_1JZ8310RCCP052615.pld            
CSM_1JZ8310RCCP052629.pld            
CSM_1JZ8310RCCP052672.pld            
CSM_1JZ8310RCCP053098.pld            
CSM_1JZ8310RCCP053103.pld            
CSM_1JZ8310RCCP053120.pld            
CSM_1JZ8310RCDP053362.pld            
CSM_1JZ8310RCDP053368.pld            
CSM_1JZ8310RCDP053371.pld            
CSM_1JZ8310RCDP053376.pld            
CSM_1JZ8310REBP052393.pld            
CSM_1JZ8310REDP053370.pld            
CSM_1JZ8310RHBP052425.pld            
CSM_1JZ8310RHCP052605.pld            
CSM_1JZ8310RHCP052667.pld            
CSM_1JZ8310RHCP052717.pld            
CSM_1JZ8310RHCP053088.pld            
CSM_1JZ8310RHCP053110.pld            
CSM_1JZ8310RHDP053366.pld            
CSM_1JZ8310RJBP052384.pld            
CSM_1JZ8310RJBP052434.pld            
CSM_1JZ8310RJBP052479.pld            
CSM_1JZ8310RJCP052595.pld            
CSM_1JZ8310RJCP052631.pld            
CSM_1JZ8310RJCP052659.pld            
CSM_1JZ8310RJDP053375.pld            
CSM_1JZ8310RKCP052627.pld            
CSM_1JZ8310RKCP052661.pld            
CSM_1JZ8310RKCP053079.pld            
CSM_1JZ8310RKCP053129.pld            
CSM_1JZ8310RLCP052649.pld            
CSM_1JZ8310RLCP052702.pld            
CSM_1JZ8310RLCP052800.pld            
CSM_1JZ8310RLCP052859.pld            
CSM_1JZ8310RLCP052862.pld            
CSM_1JZ8310RLCP053087.pld            
CSM_1JZ8310RLCP053123.pld            
CSM_1JZ8310RLDP053365.pld            
CSM_1JZ8310RLDP053379.pld            
CSM_1JZ8310RPBP052396.pld            
CSM_1JZ8310RPCP052660.pld            
CSM_1JZ8310RPCP052674.pld            
CSM_1JZ8310RPCP052870.pld            
CSM_1JZ8310RPCP053114.pld            
CSM_1JZ8310RTBP052395.pld            
CSM_1JZ8310RTCP052642.pld            
CSM_1JZ8310RTCP052673.pld            
CSM_1JZ8310RTCP053130.pld            
CSM_1JZ8310RTDP053369.pld            
CSM_1JZ8310RVBP052386.pld            
CSM_1JZ8310RVBP052422.pld            
CSM_1JZ8310RVBP052436.pld            
CSM_1JZ8310RVBP052467.pld            
CSM_1JZ8335RLDP053404.pld            
CSM_1JZ8335RPCP052596.pld            
CSM_1JZ8335RPCP052937 (1).pld        
CSM_1JZ8335RPCP052937.pld            
CSM_1JZ8335RPDP053412.pld            
CSM_1JZ8335RTCP053133.pld            
CSM_1JZ8335RVBP052439.pld            
CSM_1JZ8335RVCP052541.pld            
CSM_1JZ8335RVDP053173.pld            
CSM_1JZ8335RVDP053254.pld            
CSM_JZ8295R001009.pld                
CSM_JZ8295R001010.pld                
CSM_JZ8295R001088.pld                
CSM_JZ8295R002058.pld                
CSM_JZ8295R002062.pld                
CSM_JZ8295R002086.pld                
CSM_JZ8295R002092.pld                
CSM_JZ8295R002103.pld                
CSM_JZ8295R002121.pld                
CSM_JZ8295R002125.pld                
CSM_JZ8295R002134.pld                
CSM_JZ8295R002154.pld                
CSM_JZ8295R002159.pld                
CSM_JZ8295R002175.pld                
CSM_JZ8295R002185.pld                
CSM_JZ8295R002340 (1).pld            
CSM_JZ8295R002340.pld                
FLC_DW772GX648088.pld                
HV1_1JZ8285RABP052264.pld            
HV1_1JZ8285REBP052270.pld            
HV1_1JZ8285RECP052531.pld            
HV1_1JZ8285RKBP052243.pld            
HV1_1JZ8285RLBP052265 (1).pld        
HV1_1JZ8285RLBP052265.pld            
HV1_1JZ8285RLCP052560.pld            
HV1_1JZ8310RACP052519.pld            
HV1_1JZ8310RADP053364.pld            
HV1_1JZ8310RCBP052368.pld            
HV1_1JZ8310RCCP052672.pld            
HV1_1JZ8310RCCP053120.pld            
HV1_1JZ8310RCDP053362.pld            
HV1_1JZ8310RCDP053368.pld            
HV1_1JZ8310RCDP053371.pld            
HV1_1JZ8310RCDP053376.pld            
HV1_1JZ8310REBP052393.pld            
HV1_1JZ8310REDP053370.pld            
HV1_1JZ8310RHBP052425.pld            
HV1_1JZ8310RHCP052605.pld            
HV1_1JZ8310RHCP052667.pld            
HV1_1JZ8310RHCP052717.pld            
HV1_1JZ8310RHCP053088.pld            
HV1_1JZ8310RHCP053110.pld            
HV1_1JZ8310RHDP053366.pld            
HV1_1JZ8310RJBP052384.pld            
HV1_1JZ8310RJBP052434.pld            
HV1_1JZ8310RJBP052479.pld            
HV1_1JZ8310RJCP052595.pld            
HV1_1JZ8310RJCP052631.pld            
HV1_1JZ8310RJCP052659.pld            
HV1_1JZ8310RJDP053375.pld            
HV1_1JZ8310RKCP052627.pld            
HV1_1JZ8310RKCP052661.pld            
HV1_1JZ8310RKCP053079.pld            
HV1_1JZ8310RKCP053129.pld            
HV1_1JZ8310RLCP052649.pld            
HV1_1JZ8310RLCP052702.pld            
HV1_1JZ8310RLCP052800.pld            
HV1_1JZ8310RLCP052859.pld            
HV1_1JZ8310RLCP052862.pld            
HV1_1JZ8310RLCP053087.pld            
HV1_1JZ8310RLCP053123.pld            
HV1_1JZ8310RLDP053365.pld            
HV1_1JZ8310RLDP053379.pld            
HV1_1JZ8310RPBP052396.pld            
HV1_1JZ8310RPCP052660.pld            
HV1_1JZ8310RPCP052674.pld            
HV1_1JZ8310RPCP052870.pld            
HV1_1JZ8310RPCP053114.pld            
HV1_1JZ8310RTBP052378.pld            
HV1_1JZ8310RTBP052395.pld            
HV1_1JZ8310RTCP052642.pld            
HV1_1JZ8310RTCP052673.pld            
HV1_1JZ8310RTCP053130.pld            
HV1_1JZ8310RTDP053369.pld            
HV1_1JZ8310RVBP052386.pld            
HV1_1JZ8310RVBP052422.pld            
HV1_1JZ8310RVBP052436.pld            
HV1_1JZ8310RVBP052467.pld            
HV1_1JZ8310RVCP052602.pld            
HV1_1JZ8335RLDP053404.pld            
HV1_1JZ8335RPCP052596.pld            
HV1_1JZ8335RPCP052937 (1).pld        
HV1_1JZ8335RPCP052937.pld            
HV1_1JZ8335RPDP053412.pld            
HV1_1JZ8335RTCP053133.pld            
HV1_1JZ8335RVBP052439.pld            
HV1_1JZ8335RVCP052541.pld            
HV1_1JZ8335RVDP053173.pld            
HV1_1JZ8335RVDP053254.pld            
HWD_DW672GX635247.pld                
HWD_DW672GX635394.pld                
HWD_DW672GX638532.pld                
HWD_DW672GX644896.pld                
HWD_DW772GX635503 (1).pld            
HWD_DW772GX635503.pld                
HWD_DW772GX638524.pld                
HWD_DW772GX648064 (1).pld            
HWD_DW772GX648064.pld                
HWD_DW772GX648088.pld                
ICC_JZ6130D001018.pld                
ICC_JZ6130D001055.pld                
ICC_JZ6130D001109.pld                
ICC_JZ6130D001111.pld                
ICC_JZ6130D001115.pld                
ICC_JZ6130D001182.pld                
ICC_JZ6130D001300.pld                
ICC_JZ6130D001330.pld                
ICC_JZ6130D001331.pld                
ICC_JZ6130D001332.pld                
ICC_JZ6130D001338.pld                
ICC_JZ6130D001339.pld                
ICC_JZ6130D001340.pld                
ICC_JZ6130D001350.pld                
ICC_JZ6130D001359.pld                
ICC_JZ6130D001360.pld                
ICC_JZ6130D001361.pld                
ICC_JZ6130D001442.pld                
ICC_JZ6130D001443.pld                
ICU_RW7820A032816.pld                
ICU_RW7820A032845.pld                
ICU_RW7820A032871.pld                
ICU_RW7820A032875.pld                
ICU_RW7820A032903.pld                
ICU_RW7820A032971.pld                
ICU_RW7820R045604.pld                
ICU_RW7820R046600.pld                
ICU_RW7820R046611.pld                
ICU_RW7820R046614.pld                
ICU_RW8430P020067.pld                
ICU_RW8430P020201.pld                
ICU_RW8430P020207.pld                
ICU_RW8430P020209.pld                
ICU_RW8430P020218.pld                
ICU_RW8430P020234.pld                
ICU_RW8430P020495.pld                
ICU_RW8430P020751.pld                
ICU_RW8430P020787.pld                
ICU_RW8430P020793.pld                
ICU_RW8430P020804.pld                
ICU_RW8430P020828 (1).pld            
ICU_RW8430P020828.pld                
ICU_RW8430P020836.pld                
ICU_RW8430P020842.pld                
ICU_RW8430P020874.pld                
ICU_RW8430P020896.pld                
ICU_RW8430P020959.pld                
ICU_RW8430P020972.pld                
ICU_RW8430P020977.pld                
ICU_RW8430P020995.pld                
ICU_RW8430P021001.pld                
ICU_RW8430P021022.pld                
ICU_RW8430P021031.pld                
ICU_RW8430P021470.pld                
ICU_RW8430P021505.pld                
ICU_RW8430P021511.pld                
ICU_RW8430P021512.pld                
ICU_RW8430P021516.pld                
ICU_RW8430P021517.pld                
ICU_RW8430P021519.pld                
ICU_RW8430P021524.pld                
ICU_RW8430P021532.pld                
ICU_RW8430P021537.pld                
ICU_RW8430P021539.pld                
ICU_RW8430P021544.pld                
ICU_RW8430P021562.pld                
ICU_RW8430P021576.pld                
ICU_RW8430P021588.pld                
ICU_RW8430P021625.pld                
ICU_RW8430P021632.pld                
ICU_RW8430P021637.pld                
ICU_RW8430P021641.pld                
ICU_RW8430P021659.pld                
ICU_RW8430P021698.pld                
ICU_RW8430P021731.pld                
ICU_RW8430P021742.pld                
ICU_RW8430P022681.pld                
ICU_RW8430P022873.pld                
ICU_RW8430P023899.pld                
ICU_RW8430P023924.pld                
ICU_RW8430P023953.pld                
ICU_RW8430P024001.pld                
ICU_RW8430P024019.pld                
ICU_RW8430P024034.pld                
ICU_RW8430P024052 (1).pld            
ICU_RW8430P024052.pld                
ICU_RW8430P024077.pld                
ICU_RW8430P024118.pld                
ICU_RW8430P024126.pld                
ICU_RW8430P024204.pld                
ICU_RW8430P024228.pld                
ICU_RW8430P024230.pld                
ICU_RW8430P024258.pld                
ICU_RW8430P024260.pld                
ICU_RW8430P024298.pld                
ICU_RW8430P024301.pld                
ICU_RW8430P024306 (1).pld            
ICU_RW8430P024306.pld                
ICU_RW8430P024365.pld                
MHC_E0A400X380062.pld                
OC3_DW672GX635247.pld                
OC3_DW672GX635394.pld                
OC3_DW672GX638532.pld                
OC3_DW672GX644896.pld                
OC3_DW772GX635503 (1).pld            
OC3_DW772GX635503.pld                
OC3_DW772GX638524.pld                
OC3_DW772GX648064 (1).pld            
OC3_DW772GX648064.pld                
OC3_DW772GX648088.pld                
OC4_T0325KX227251.pld                
OCP_Z07300X506824.pld                
OCP_Z07300Y509048.pld                
OCP_Z07350X509526.pld                
OCP_Z07350X509581.pld                
OCP_Z07350X509668.pld                
OCP_Z07350X509687.pld                
OCP_Z07350X509760.pld                
PCU_DW672GX635247.pld                
PCU_DW672GX635394.pld                
PCU_DW672GX638532.pld                
PCU_DW672GX644896.pld                
PCU_DW772GX635503 (1).pld            
PCU_DW772GX635503.pld                
PCU_DW772GX638524.pld                
PCU_DW772GX648064 (1).pld            
PCU_DW772GX648064.pld                
PCU_DW772GX648088.pld                
PDU_1E0A400XJBB370139.pld            
PDU_1E0A400XTBB370055.pld            
PDU_E0A400X380062.pld                
PE4045G877480.pld                    
PE4045L190046.pld                    
PE4045L196003.pld                    
PE4045L197482.pld                    
PE4045L198296.pld                    
PE4045L200419.pld                    
PE4045L200422.pld                    
PE4045L202885.pld                    
PE4045L205602.pld                    
PE4045L206327.pld                    
PE4045L207748.pld                    
PE4045L208111.pld                    
PE4045L208129.pld                    
PE4045L208138.pld                    
PE4045L208165.pld                    
PE4045L208171.pld                    
PE4045L223624.pld                    
PE4045L223631.pld                    
PE4045L223642.pld                    
PE4045L805523.pld                    
PE4045L818354.pld                    
PE4045L853354.pld                    
PE6068H427034.pld                    
PE6068H427036.pld                    
PE6068H427038.pld                    
PE6068H433529.pld                    
PE6068H433530.pld                    
PE6068H433546.pld                    
PE6068H522913.pld                    
PE6068H542572.pld                    
PE6068H543137.pld                    
PE6068H543138.pld                    
PE6068L883018.pld                    
PTF_RW7820R046600.pld                
PTF_RW7820R046611.pld                
PTF_RW7820R046614.pld                
PTP_1JZ8310RJBP052434.pld            
PTP_1JZ8310RJBP052479.pld            
PTP_1JZ8310RJCP052595.pld            
PTP_1JZ8310RJCP052631.pld            
PTP_1JZ8310RJCP052659.pld            
PTP_1JZ8310RJDP053375.pld            
PTP_1JZ8310RKCP052627.pld            
PTP_1JZ8310RKCP052661.pld            
PTP_1JZ8310RKCP053079.pld            
PTP_1JZ8310RKCP053129.pld            
PTP_1JZ8310RLCP052649.pld            
PTP_1JZ8310RLCP052702.pld            
PTP_1JZ8310RLCP052800.pld            
PTP_1JZ8310RLCP052859.pld            
PTP_1JZ8310RLCP052862.pld            
PTP_1JZ8310RLCP053087.pld            
PTP_1JZ8310RLCP053123.pld            
PTP_1JZ8310RLDP053365.pld            
PTP_1JZ8310RLDP053379.pld            
PTP_1JZ8310RPBP052396.pld            
PTP_1JZ8310RPCP052660.pld            
PTP_1JZ8310RPCP052674.pld            
PTP_1JZ8310RPCP052870.pld            
PTP_1JZ8310RPCP053114.pld            
PTP_1JZ8310RTBP052378.pld            
PTP_1JZ8310RTBP052395.pld            
PTP_1JZ8310RTCP052642.pld            
PTP_1JZ8310RTCP052673.pld            
PTP_1JZ8310RTCP053130.pld            
PTP_1JZ8310RTDP053369.pld            
PTP_1JZ8310RVBP052386.pld            
PTP_1JZ8310RVBP052422.pld            
PTP_1JZ8310RVBP052436.pld            
PTP_1JZ8310RVBP052467.pld            
PTP_1JZ8310RVCP052602.pld            
PTP_JZ8295R001009.pld                
PTP_JZ8295R001010.pld                
PTP_JZ8295R001088.pld                
PTP_JZ8295R002058.pld                
PTP_JZ8295R002062.pld                
PTP_JZ8295R002086.pld                
PTP_JZ8295R002092.pld                
PTP_JZ8295R002103.pld                
PTP_JZ8295R002121.pld                
PTP_JZ8295R002125.pld                
PTP_JZ8295R002134.pld                
PTP_JZ8295R002154.pld                
PTP_JZ8295R002159.pld                
PTP_JZ8295R002175.pld                
PTP_JZ8295R002185.pld                
PTP_JZ8295R002340 (1).pld            
PTP_JZ8295R002340.pld                
PTP_RW8330P014905.pld                
PTP_RW8330P014912.pld                
PTP_RW8330P014921.pld                
PTP_RW8330P014959.pld                
PTP_RW8330P014965.pld                
PTP_RW8330P015049.pld                
PTP_RW8330P024261.pld                
PTP_RW8330P024505.pld                
PTP_RW8430P001973.pld                
PTP_RW8430P002071.pld                
PTP_RW8430P010662.pld                
PTP_RW8430P011029.pld                
PTP_RW8430P011078.pld                
PTP_RW8430P011372.pld                
PTP_RW8430P011570.pld                
PTP_RW8430P011579.pld                
PTP_RW8430P011582.pld                
PTP_RW8430P011595.pld                
PTP_RW8430P011602.pld                
PTP_RW8430P011610.pld                
PTP_RW8430P011628.pld                
PTP_RW8430P011648.pld                
PTP_RW8430P011665.pld                
PTP_RW8430P011668.pld                
PTP_RW8430P011669 (1).pld            
PTP_RW8430P011669.pld                
PTP_RW8430P011677.pld                
PTP_RW8430P011693.pld                
PTP_RW8430P011824.pld                
PTP_RW8430P011846.pld                
PTP_RW8430P011853.pld                
PTP_RW8430P011867.pld                
PTP_RW8430P011873.pld                
PTP_RW8430P011964.pld                
PTP_RW8430P012038.pld                
PTP_RW8430P012050.pld                
PTP_RW8430P012057.pld                
PTP_RW8430P012066.pld                
PTP_RW8430P012142.pld                
PTP_RW8430P012184.pld                
PTP_RW8430P012188.pld                
PTP_RW8430P012288.pld                
PTP_RW8430P012327.pld                
PTP_RW8430P012468.pld                
PTP_RW8430P012732.pld                
PTP_RW8430P012751.pld                
PTP_RW8430P012779.pld                
PTP_RW8430P012787.pld                
PTP_RW8430P012877.pld                
PTP_RW8430P014721.pld                
PTP_RW8430P014737.pld                
PTP_RW8430P014744.pld                
PTP_RW8430P014760.pld                
PTP_RW8430P014764.pld                
PTP_RW8430P014803.pld                
PTP_RW8430P014835.pld                
PTP_RW8430P014863.pld                
PTP_RW8430P014867.pld                
PTP_RW8430P014877.pld                
PTP_RW8430P015715.pld                
PTP_RW8430P015731.pld                
PTP_RW8430P015733.pld                
PTP_RW8430P015737.pld                
PTP_RW8430P015749.pld                
PTP_RW8430P015767.pld                
PTP_RW8430P015768.pld                
PTP_RW8430P015779.pld                
PTP_RW8430P015806.pld                
PTP_RW8430P015833.pld                
PTP_RW8430P015854.pld                
PTP_RW8430P016390.pld                
PTP_RW8430P016418.pld                
PTP_RW8430P016477.pld                
PTP_RW8430P016530.pld                
PTP_RW8430P016620.pld                
PTP_RW8430P017879.pld                
PTP_RW8430P018065.pld                
PTP_RW8430P018107.pld                
PTP_RW8430P018113.pld                
PTP_RW8430P018150.pld                
PTP_RW8430P020002.pld                
PTP_RW8430P020008.pld                
PTP_RW8430P020067.pld                
PTP_RW8430P020201.pld                
PTP_RW8430P020207.pld                
PTP_RW8430P020209.pld                
PTP_RW8430P020218 (1).pld            
PTP_RW8430P020218.pld                
PTP_RW8430P020234.pld                
PTP_RW8430P020495.pld                
PTP_RW8430P020751.pld                
PTP_RW8430P020787.pld                
PTP_RW8430P020793.pld                
PTP_RW8430P020804.pld                
PTP_RW8430P020810.pld                
PTP_RW8430P020828 (1).pld            
PTP_RW8430P020828.pld                
PTP_RW8430P020836.pld                
PTP_RW8430P020842.pld                
PTP_RW8430P020874.pld                
PTP_RW8430P020896.pld                
PTP_RW8430P020959.pld                
PTP_RW8430P020972.pld                
PTP_RW8430P020977.pld                
PTP_RW8430P020995.pld                
PTP_RW8430P021001.pld                
PTP_RW8430P021022.pld                
PTP_RW8430P021031.pld                
PTP_RW8430P021470.pld                
PTP_RW8430P021505.pld                
PTP_RW8430P021511.pld                
PTP_RW8430P021512.pld                
PTP_RW8430P021514.pld                
PTP_RW8430P021516.pld                
PTP_RW8430P021517.pld                
PTP_RW8430P021519.pld                
PTP_RW8430P021524.pld                
PTP_RW8430P021532.pld                
PTP_RW8430P021537.pld                
PTP_RW8430P021539.pld                
PTP_RW8430P021544.pld                
PTP_RW8430P021562.pld                
PTP_RW8430P021576.pld                
PTP_RW8430P021588.pld                
PTP_RW8430P021625.pld                
PTP_RW8430P021632.pld                
PTP_RW8430P021637.pld                
PTP_RW8430P021641.pld                
PTP_RW8430P021659.pld                
PTP_RW8430P021698.pld                
PTP_RW8430P021731.pld                
PTP_RW8430P021742.pld                
PTP_RW8430P022681.pld                
PTP_RW8430P022873.pld                
PTP_RW8430P023899.pld                
PTP_RW8430P023924.pld                
PTP_RW8430P023953.pld                
PTP_RW8430P024001.pld                
PTP_RW8430P024019.pld                
PTP_RW8430P024034.pld                
PTP_RW8430P024052 (1).pld            
PTP_RW8430P024052.pld                
PTP_RW8430P024077.pld                
PTP_RW8430P024118.pld                
PTP_RW8430P024126.pld                
PTP_RW8430P024204.pld                
PTP_RW8430P024228.pld                
PTP_RW8430P024230.pld                
PTP_RW8430P024258.pld                
PTP_RW8430P024260.pld                
PTP_RW8430P024298.pld                
PTP_RW8430P024301.pld                

and many more