02-15-2022, 06:07 PM
HINO Trucks
(LHD & RHD)
Light / Medium / Heavy
[11.2018]
Hino trucks and busses. VIN search is available.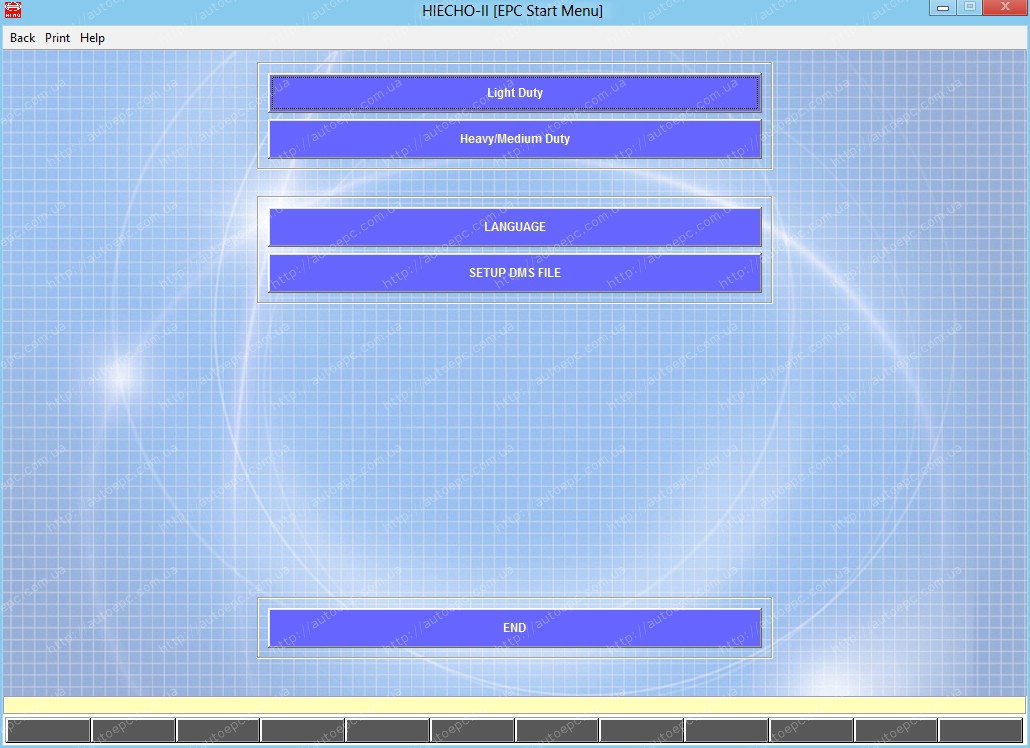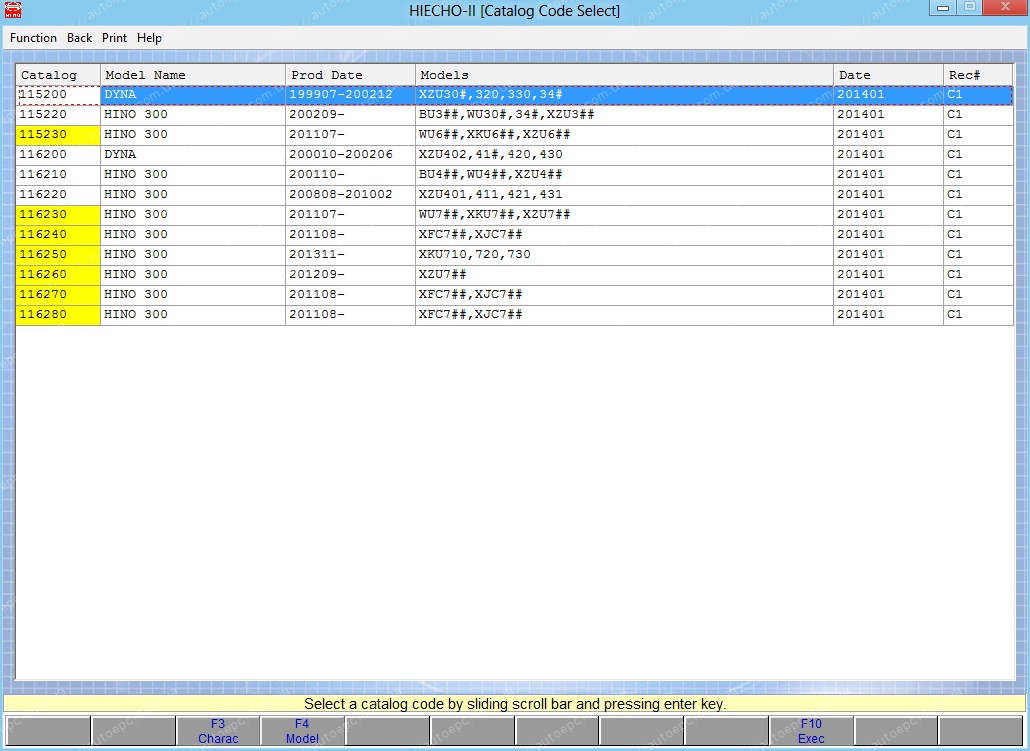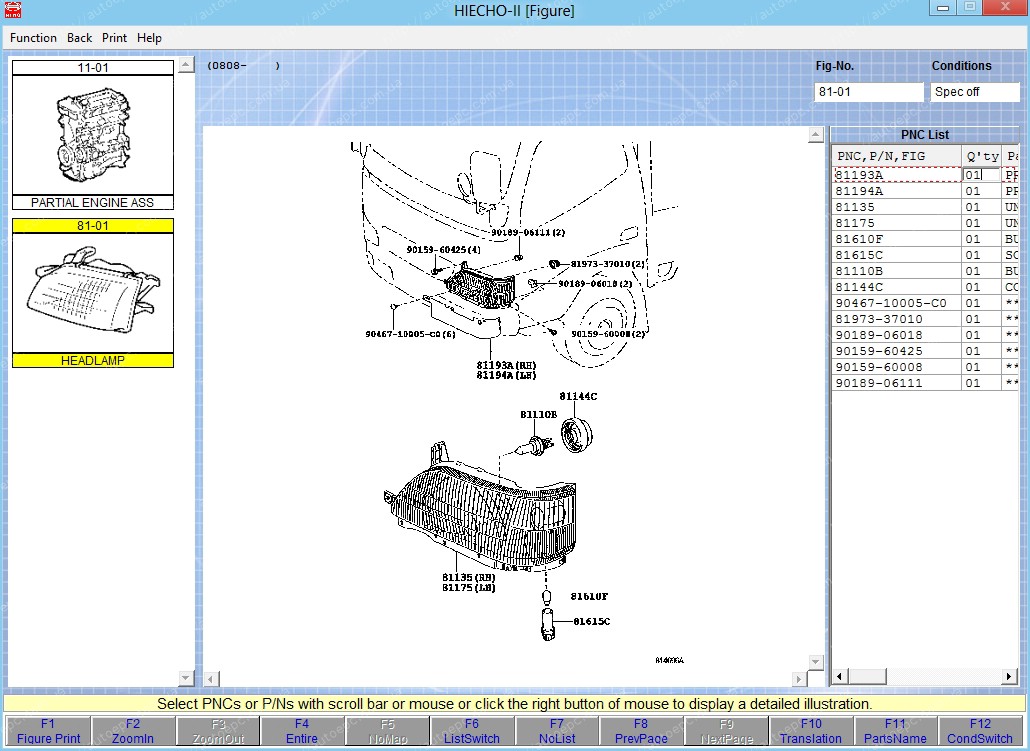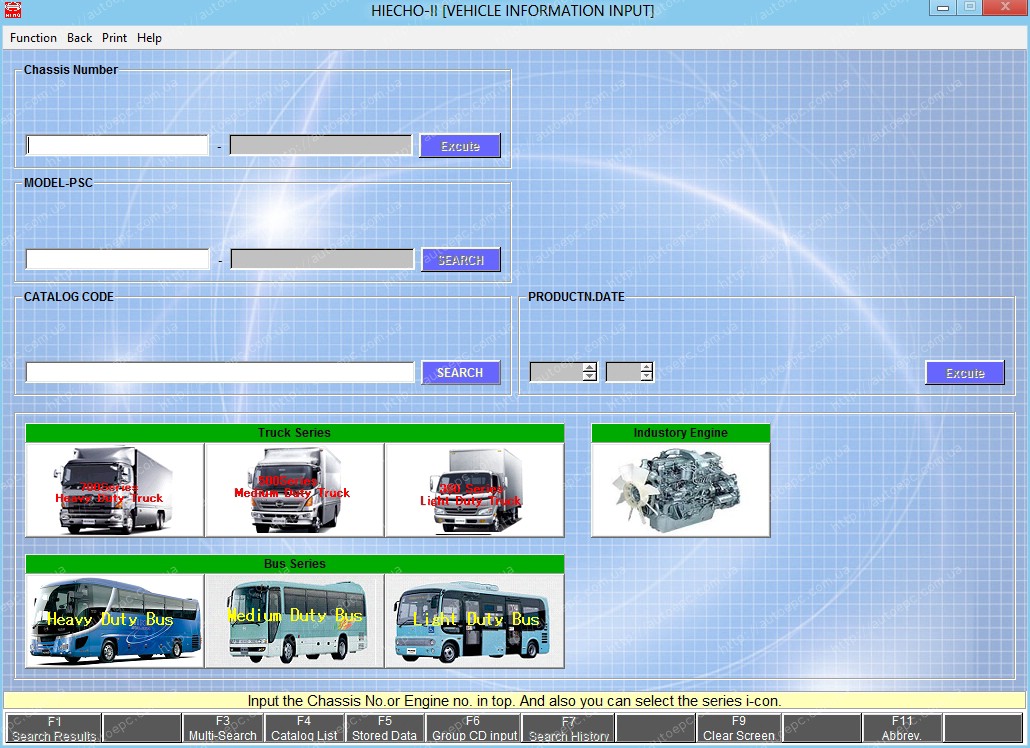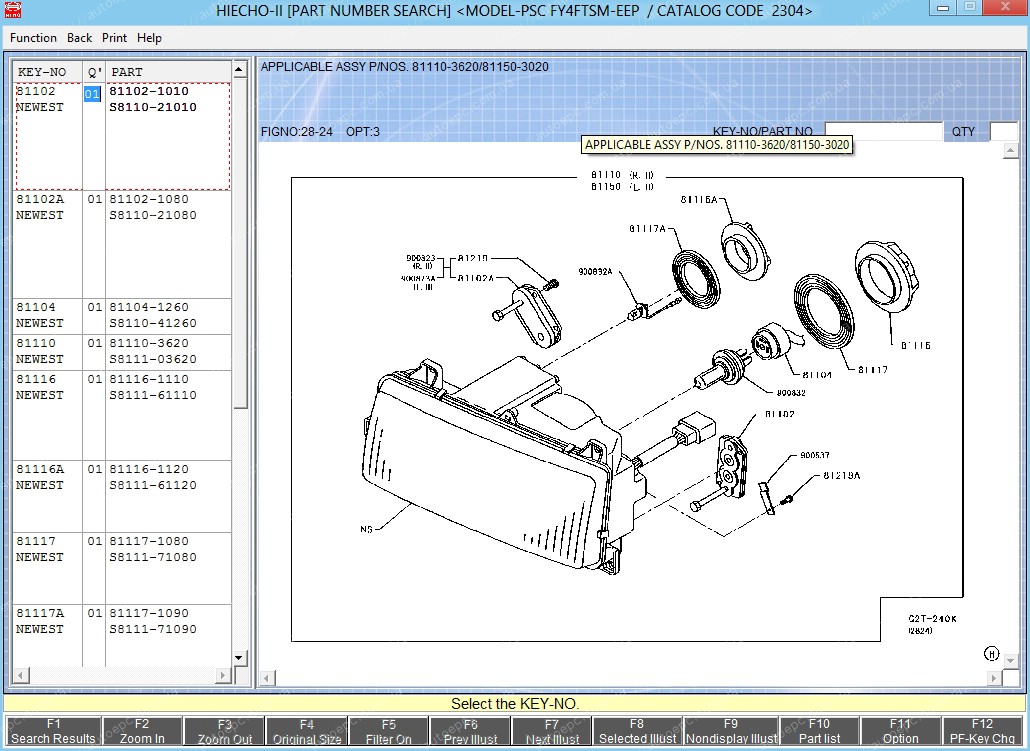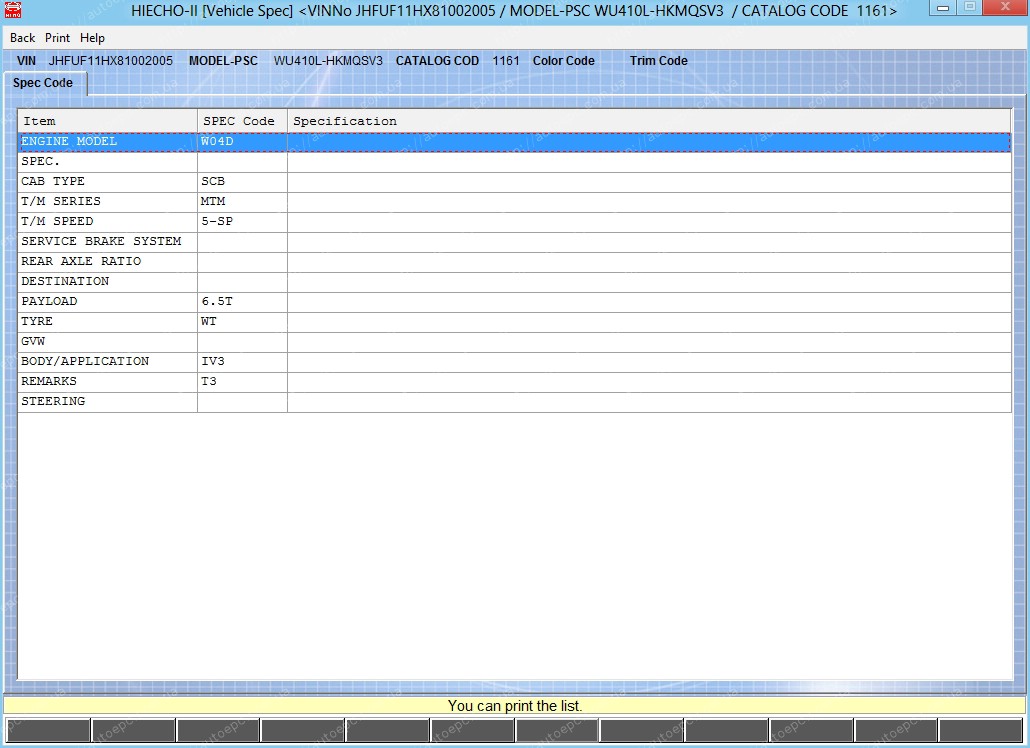 Region: All regions 
Languages: English
Type: Spare parts Catalog 
Version: 11-2018
Size: 4.31Gb
OS: WinXP, Windows7
Year: 2018
Date of update: 11.2018
HIECHO II is the parts catalog for HINO Light / Medium / Heavy Duty trucks and busses. Hino HIECHO II includes information for both LHD and RHD models. VIN search function is available in this version.
With the help of the catalog, you can find many illustrations, charts, and graphs, on which he will see the location of the necessary details and it can carry out installation or removal of any equipment spare parts.
This parts catalog includes detailed parts information about tool, engine, fuel, powertrain, chassis, body, electrical.
Electronic catalog helps save time searching for the necessary replacement parts, manuals on their installation, the catalog includes the simple search function. You can search parts by VIN / VDS, frame number, model name, catalog code, model, chassis number.
Industory Engine models and tabs 300 series (LD truck) are NOT included.
Hino HIECHO II parts catalog covers the following models:
Truck Series
700 Series Heavy Duty Truck
FH8J (LHD) – CHN
FS/FR/SH/SR1E (LHD) – TWN
FR/FS/FY1E (LHG) – CHL/COL/ECU/GCC/TWN
FS/FR/FY/ZS (RHD/LHD) – OTHER
FR8J (LHD) – CHN
FS/FY1E (RHD) – AUS/GEN/HG/NZ/SG/ZAF
FS1E/FY1E (RHD) – AUS/NZL/HKD
FS1E# (RHD) – SGP
FS1ELKD/MKG/LKG/TKG (RHD) – AUS/NZL
FS/FY/SH/SS1E (RHD) – HKG/IRL
FS/FY1E (RHD) – ZAF
FS/FY1E# (RHD) – HKG/SGP
FS/FY/ZS1E (LHD) – CHL/CHN/DZA/KAZ/RUS
FS1E (LHD) – CHN
FS1E# (RHD) – HKG
LARGE TRACK (RHD/LHD) FS/FY/LFS/LFR/WP – OTHERS
FS1KL5D/LLD/RLA-SGP, SGN (RHD) – NZL
FS1KLKD – (RGB, AGB) (RHD) – AUS
FS1K (RHD) – AUS
FS1KLN/LR/TN/RN/RR/TR/FY1KTN/UN (RHD) – HKG
FS2P (LHD) – CHN
FS/FY2P (LHD) – CHN
FS2P (LHD) – CHN
FY1A (RHD) – HKG
FY1ETNM-KAS (RHD) – SGP
FY1EUKA/UKG (RHD) – AUS/NZL
FY1EUVA-QPY/FY1EWVA-QPW (LHD) – OTHERS
FY1EZUA-SPV (LHD) – CHN
FY2P (LHD) – CHN
GY2P (RHD) – IND/THA
FM2P/GY2P (RHD) – OTHERS
NZ/ZY/KY/ZC (LHD) – CHN/PAK
LARGE SEMI TRACK (RHD/LHD) SH/SS – OTHERS
SH/SS1E (RHD) – ZAF/HKG/MYS/SGP/ZAF
SH1E/SS1E (RHD) – AUS/HKG/NZL/SGP/ZAF
SH1E# (RHD) – HKG/SGP
SH/SS (RHD/LHD) – OTHERS
SH1E/SS1E/SV1E (LHD) – CHN/GCC/MNG/RUS/TWN
SH/SR/SS1E (LHD) – CHL/COL/ECU/GCC/TWN
SH1E (LHD) – CHL/DZA/GCC
SH1KDNA/DRA/SS1KKNA (RHD) – HKG
SH2P/SS2P (LHD) – CHN
SH/SS2P (LHD) – CHN
SH8J (LHD) – CHN
SS1E (RHD) – ZAF/AUS/NZL
SS1E (LHD) – CHL/GCC/GEN-EXP/CHN
SS2P (LHD) – CHN
SV1EMPA-AW (RHD) – GEN-EXP
SV1EMVA-PTP (LHD) – OTHERS
OOMY SG1J/SG2J/XD12OWA, XA (LHD) – CAN/USA
ZS1E (LHD) – CHL/PER
ZS/ZY1E (RHD) – IDN/GEN
ZS1E (RHD) – IND
ZY1ETVD-TS (LHD) – GEN-EXP
ZY1E (RHD) – LAO
ZY1EVSD-TS (LHD) – PER
ZY1E (RHD) – IDN
500 Series Medium Duty Truck:
92-97 MY FA15/FB15 (LHD)
98MY FA4J/FB4J/FD2J/FE2J/FF2J/SG1J/SG2J (LHD) – CAN/USA
99MY FA4J/FB4J (LHD) – CAN/USA
00MY FA4J/FB4J (LHD) – CAN/USA
01MY FA4J/FB4J (LHD) – CAN/USA
02MY FA4J/FB4J (LHD) – CAN/USA
03MY FA/FB4J, FD/FE/FF/2J, SG1J/2J (LHD) – CAN/USA
04MY FA/FB/FD/FE/FF/SG (LHD) – CAN/USA
MIDDLE TRACK (LHD) FB/FC/FD/FF/FG/FT/GD/GH – OTHERS
MIDDLE TRACK (RHD) FB/FC/FD/FE/FF/FG/FT/GD/GH/GT – OTHERS
FB2WGKZ/FB2WGLZ (RHD) – IDN
FB2W (RHD) – IDN/PAK
FB4J (RHD) – AUS
FB4J (LHD) – COL
FC/FD/FT/GD/GT (RHD) – OTHERS
FC/FD/FT/GD/GT (LHD) – OTHERS
FC3J (RHD) – AUS
FC3W/FD3H/FD3W/GD3H (RHD) – AUS
FC4JGUZ/KUZ-NZL/FC4JGUZ-NZV (LHD) – COL/VEN
FC4J (RHD) – THA (CNG)
FC6J (LHD) – TWN
FC6JCSD/GSA-NNF (LHD) – TWN
FC6J/FC9J (RHD) – OTHERS
FC/FD7J (LHD) – TWN
FC/FD/FE7J (RHD) – AUS/HKG/NZL/SGP
FC7J (LHD) – TWN
FC9J (RHD) – THA
FD8J/GD8J/FC9J (LHD) – CHL/PHL/RUS/TWN/VNM
FC9J (LHD) – CHL/COL/VNM
FC9J (LHD) – COL/VNM
FC9J (LHD) – COL/ECU/S/AM
FC9JJSA-VRL (LHD) – S/AM
FC9JJUA-QNK (LHD) – CHL
FC9JJUA-UNK (LHD) – CHL
FC9JLKA-NRQ (RHD) – ZAF
FC9JNKA-NNJ (RHD) – IDN
FD1J/FD2J/FF1J/GD1J (RHD) – AUS
99MY FD2J/FE2J (LHD) – CAN/USA
00MY FD2J/FE2J/FF2J/XD12OSA, TA, UA, VA (LHD) – CAN/USA
01MY FD2J/FE2J/FF2J (LHD) – CAN/USA
02MY FD2J/FE2J/FF2J (LHD) – CAN/USA
93-97MY FD5H (LHD) – CAN/USA
FD/GD8J (LHD) – COL/ECU/CHL/S/AM/RUS
FD8J (LHD) – GCC
FD8J (LHD) – TWN
FD8J*UA/*UG (LHD) 10011-10024 – KOR
FD8J*UA/*UG (LHD) 10025 – KOR
FD/GD/FT/GT8J (RHD) – OTHERS
FD8JLUA-QAK (LHD) – CHL
FD8JPUA-QH3 (LHD) – KOR
FD9J (RHD) – HKG/SGP
FE3H/FF2H/GH1H/GH3H (RHD) – AUS
93-97MY FE5H/FF4H/FF5H (LHD) – CAN/USA
FE8J (RHD) – HKG
99MY FF2J (LHD) – CAN/USA
FG1J/GH1J (RHD) – OTHERS
FG1J (RHD) – GEN-EU1
FG1J (LHD) – GEN-EU1
FG1J, 8J/GH1J (RHD) – IDN/MYS/PAK/ZAF
FG1J/GH1J (LHD) – SAU
FG1J/GH1J (LHD) – OTHERS
FG1J/GH1J (RHD) – AUS
FG1J (RHD) – AUS
FG1J (RHD) – THA
FG/FM1J (RHD) – THA
FG1JPUZ-QYL/QYY (LHD) – ECU/PHL
FG8J (RHD) – IDN/THA
FG/GH8J (RHD) – AUS/NZL
FG8J (RHD) – GEN-EU2/MYS/ZAF
FG8J (LHD) – EGY/GCC/GEN/PHL
FG8J (LHD) – GEN-EU4/VNM
FG/GH8J (RHD) – OTHERS
FG/GH8J (RHD) – ZAF
FG/GH/CY8J (RHD) – AUS/HKG/NZL/SGP
FG8J/GH8J (LHD) – CHL/COL/RUS/SAU/TWN
FG/GH8J (LHD) – CHL/PHL/TWN/VEN
FG/GH8J (LHD) – KOR/TWN
FG/GH8J (RHD) – HKG/SGP
FG/GH8J (LHD) – CHL
FG8J/GH8J (LHD) – CHL/GEN-EU4/RUS
FL/FM1A (RHD) – THA
MIDDLE TRACK (RHD) FL/FM/SG – OTHERS
FL/FM/SG1J/SG2P (RHD) – OTHERS
FL/FM1J/FM2P (LHD) – OTHERS
FL1J/FM1J (RHD) – THA (CNG)
FL/FM1J (RHD) – THA
FL/FM2P (LHD) – EGY/GEN/GCC/PHL
FL/FM2P (RHD) – IDN/THA
FL/FM8J (RHD) – IDN/THA
FL8J/FM8J/SG8J (RHD) – OTHERS
FL/FM8J (RHD) – IDN/PAK/ZAF
FL/FM8J (LHD) – MEX
FL8J (RHD) – MYS/ZAF
FM8J (LHD) – VNM
FL/FM8J (LHD) – CHL/VNM
FL8J (LHD) – GEN-EXP/VNM
FL/FM8J (LHD) – GEN/GCC
FL/FM8J (RHD) – AUS/NZL
FL8J/FM8J (RHD) – AUS/NZL
FM1A (RHD) – AUS/NZL/THA
FM1A (LHD) – COL/GEN-EU4
FM1A (LHD) – CHL
FM1A (RHD) – AUS/NZL
FM1J (RHD) – AUS
FM2P (RHD) – GEN/MYS/PAK/ZAF
FM2P/GY2P (RHD) – OTHERS
FM2P (RHD) – IND/MYS/PAK/THA
FM2P (LHD) – VNM
FM2P (LHD) – ECU/GCC/SAU
FM3M (RHD) – AUS
FM8J (RHD) – IDN/MYS/PAK
FM8J (LHD) – RUS
FM8J (LHD) – CHL/COL/GEN-EU4/RUS
FM8J (LHD) – CHL/COL/GEN/RUS/SAU
FT/GT1J (LHD) – GCC
FT1J/GT1J (RHD) – AUS
FT3W/GT3H (RHD) – AUS
GD1J (LHD) – SAU
GD8J (LHD) – GCC
GD8J (LHD) – CHL/RUS
GD8JLKA-HDM (RHD) – MYS
GH1A (RHD) – AUS/NZL
GH1J (RHD) – AUS
GH8J (RHD) – GEN/MYS
GT3HHKA (RHD) – PAK
GT8J (RHD) – GEN/PAK
GT8J (RHD) – AUS/NZL
GT8J (RHD) – ZAF
05MY NA/NB/NC (LHD) – CAN/USA
06MY NA/NB/NC (LHD) – CAN/USA
07MY NA/NB/NC (LHD) – CAN/USA
08MY NA/NB/NC (LHD) – CAN/USA
09MY NA/NB/NC (LHD) – CAN/USA
10MY NA/NB/NC (LHD) – CAN/USA
09MY ND (LHD) – CAN/USA
10MY ND (LHD) – CAN/USA
05MY ND (LHD) – CAN/USA
06MY ND (LHD) – CAN/USA
07MY NE (LHD) – CAN/USA
08MY NE (LHD) – CAN/USA
09MY NE (LHD) – CAN/USA
10MY NE (LHD) – CAN/USA
11MY NE (LHD) – CAN/USA
12MY NE (LHD) – CAN/USA
13MY NE (LHD) – CAN/USA
14MY NE (LHD) – CAN/USA
15MY NE (LHD) – CAN/USA
16MY NE (LHD) – CAN/USA
17MY NE (LHD) – CAN/USA
18MY NE (LHD) – CAN/USA
19MY NE (LHD) – CAN/USA
05MY NE (LHD) – CAN/USA
06MY NE (LHD) – CAN/USA
11MY NF (LHD) – CAN/USA
12MY NF (LHD) – CAN/USA
13MY NF (LHD) – CAN/USA
14MY NF (LHD) – CAN/USA
15MY NF (LHD) – CAN
16MY NF (LHD) – CAN
17MY NF (LHD) – CAN
18MY NF (LHD) – CAN
19MY NF (LHD) – CAN
05MY NF (LHD) – CAN/USA
06MY NF (LHD) – CAN/USA
07MY NF (LHD) – CAN/USA
08MY NF (LHD) – CAN/USA
09MY NF (LHD) – CAN/USA
10MY NF (LHD) – CAN/USA
15MY NH (LHD) – CAN
16MY NH (LHD) – CAN/USA
17MY NH (LHD) – CAN/USA
18MY NH (LHD) – CAN/USA
19MY NH (LHD) – CAN/USA
08MY NJ (LHD) – CAN/USA
09MY NJ (LHD) – CAN/USA
10MY NJ (LHD) – CAN/USA
11MY NJ (LHD) – CAN/USA
12MY NJ (LHD) – CAN/USA
13MY NJ (LHD) – CAN/USA
14MY NJ (LHD) – CAN/USA
15MY NJ (LHD) – CAN/USA
16MY NJ (LHD) – CAN/USA
17MY NJ (LHD) – CAN/USA
18MY NJ (LHD) – CAN/USA
19MY NJ (LHD) – CAN/USA
07MY NJ (LHD) – CAN/USA
05MY NJ (LHD) – CAN/USA
06MY NJ (LHD) – CAN/USA
08MY NV (LHD) – CAN/USA
09MY NV (LHD) – CAN/USA
10MY NV (LHD) – CAN/USA
11MY NV (LHD) – CAN/USA
12MY NV (LHD) – CAN/USA
13MY NV (LHD) – CAN/USA
14MY NV (LHD) – CAN/USA
15MY NV (LHD) – CAN/USA
16MY NV (LHD) – CAN/USA
17MY NV (LHD) – CAN/USA
18MY NV (LHD) – CAN/USA
19MY NV (LHD) – CAN/USA
05MY NV (LHD) – CAN/USA
06MY NV (LHD) – CAN/USA
07MY NV (LHD) – CAN/USA
SG1A (LHD) – COL/GEN-EU4
93-97MY SG1H/SG4H (LHD) – CAN/USA
99MY SG1J (LHD) – CAN/USA
00MY SG1J/SG2L/XD120WA, XA (LHD) – CAN/USA
01MY SG1J/SG2J (LHD) – CAN/USA
02MY SG1J/SG2J (LHD) – CAN/USA
99MY SG2J (LHD) – CAN/USA
SG2P (RHD) – GEN/MYS
SG2P (LHD) – EGY/GEN
SG8J (RHD) – IDN/PAK
SG8J (RHD) – IDN
SG8J (LHD) – CHL
Light Duty:
C1 – DUNA – XZU30#, 320, 330, 34#
C1 – DUNA – XZU402, 41#, 420, 430
C1 – HINO 300 – WU3##, XZU3##
C1 – HINO 300 – WU6##, XZU6##, XKU6##
C1 – HINO 300 – BU4##, WU4##, XZU4##
C1 – HINO 300 – XZU401, 411, 421, 431
C1 – HINO 300 – WU7##, XKU7##, XZU7##
C1 – HINO 300 – XFC7##, XJC7##
C1 – HINO 300 – XKU710, 720, 730
C1 – HINO 300 – XZU7##
C1 – HINO 300 – XJC7##, XZC7##, 810
C1 – HINO 300 – XFC7##, XJC7##
Bus Series
Heavy Duty Bus
HU2ASKP-VJT (RHD) – THA
BUS (RHD/LHD) AK/HU/HT/RG/RJ/RK/RM/RR/RU/RX/ERK/LRG/LRK/LRM – OTHERS
LRM/ERK (LHD) – TWN
RG1J (RHD) – AUS
RK1JSTL/MTL/STU (LHD) – OTHERS
RK1J (LHD) – OTHERS
RK1J (RHD) – OTHERS
RK1JSKA-BAB (RHD) – IDN
RK1J (RHD) – AUS
RK1JSNL-RHJ (RHD) – IDN
RK8JMS/RK8JMT/RK8JRS/RN8JSS/RN8JRS (LHD) – COL/TWN
RK8J/RN8J (LHD) – COL/TWN
RK8J (LHD) – MEX/PHL
RK8J (LHD) – TWN
RK8JRKU-SHH, SRH (RHD) – HKG
RK8JSKA-NHJ, MHJ (RHD) – IDN
RK8J/RN8J (RHD) – AUS/IDN/THA
RK8JSKA-NJM (RHD) – MYS
RK8J/RN8JSKA (RHD) – AUS
RK8J (RHD) – THA
RK8JSLA-SHT, SRT (RHD) – THA
PK8JSMA (RHD) – AUS
PK8JSUA-NJV (LHD) – VNM
RM1ESKU-XSM/RM1ESKU-XST (RHD) – MYS/THA
RM1ESSU-XSF (LHD) – TWN
RM2KSKA-BAB (RHD) – BGD/THA
RM2PSKA-BA (RHD) – THA
RM2PSSD-BA, FAC (LHD) – CHN
RM2PSSD-BAY (LHD) – PHL
RM8J (LHD) – TWN
RN8J (RHD) – IDN/MYS/PAK
RN8JSMA (RHD) – AUS
RN8J (LHD) – TWN
RU2PSSA/SSB (LHD) – CHN
Medium Duty Bus
AD2J (RHD) – AUS
AK1J/AK8J (RHD) – BGD/IDN/PAK
AK1JRKB-BAB, BAC/AK1JMKB-BAC, BBB (RHD) – BGD/PAK
BUS (RHD/LHD) AK/HU/HT/RG/RJ/RK/RM/RR/RU/RX/ERK/LRG/LRK/LRM – OTHERS
AK8JRKA-FCJ (RHD) – IDN
AK8J (LHD) – CRI/ECU/GCC
LRM/ERK (LHD) – TWN
HS8J (LHD) – TWN

AD2J (RHD) – AUS
AK1J/AK8J (RHD) – BGD/IDN/PAK
AK1JRKB-BAB, BAC/AK1JMKB-BAC, BBB (RHD) – BGD/PAK
BUS (RHD/LHD) AK/HU/HT/RG/RJ/RK/RM/RR/RU/RX/ERK/LRG/LRK/LRM – OTHERS
AK8JRKA-FCJ (RHD) – IDN
AK8J (LHD) – CRI/ECU/GCC
LRM/ERK (LHD) – TWN
HS8J (LHD) – TWN
Light Duty Bus
HX9JLKE-FWU (RHD) – AUS
BUS (RHD/LHD) AK/HU/HT/RG/RJ/RK/RM/RR/RU/RX/ERK/LRG/LRK/LRM – OTHERS